Berman INFINITI Chicago Named Illinois #1 INFINITI Dealer of the Year!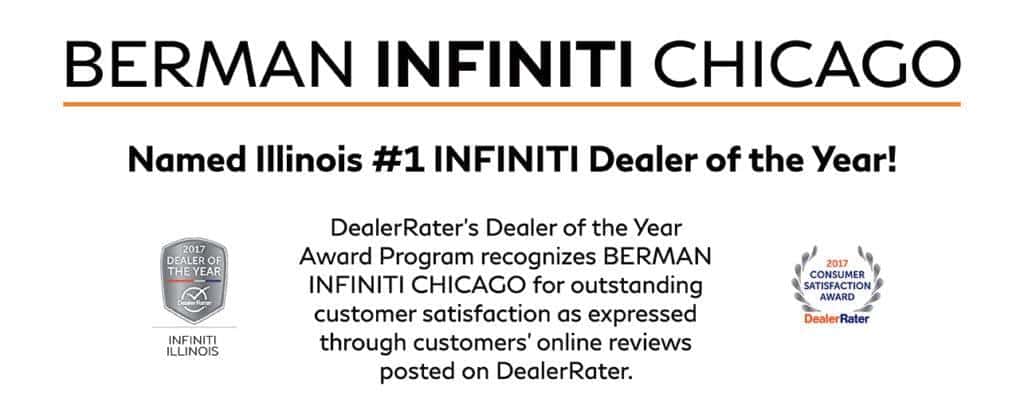 DealerRater Recognizes Berman INFINITI Chicago with a Consumer Satisfaction Award. Berman INFINITI Chicago is among the top auto dealers in the U.S that demonstrate excellent customer service, as rated by online consumer reviews.

Berman INFINITI Chicago has been awarded a 2017 DealerRater Consumer Satisfaction Award, an annual recognition given to auto dealerships that deliver outstanding customer service as rated by online consumer reviews. DealerRater, the world's leading car dealer review website, created the Consumer Satisfaction Award program to let online car shoppers instantly spot dealers that provide high-quality customer service.

Consumer Satisfaction Awards are given to the top 10 percent of U.S. new-car dealers based on their PowerScore™, as well as top independent and Canadian dealerships that receive at least 25 annual reviews and maintain an average PowerScore™ rating of 4.0 out of 5.0. The PowerScore™ is determined using a Bayesian algorithm that factors the dealership's average DealerRater consumer rating and the total number of reviews written about the dealership during the 2016 calendar year.

"We'd like to congratulate Berman INFINITI Chicago and all of our Consumer Satisfaction Award winners," said DealerRater CEO Gary Tucker. "DealerRater's extensive review database allows shoppers to identify dealerships that are providing excellent customer experiences, and it's clear that Berman INFINITI Chicago is hitting the mark in the U.S."

Berman INFINITI Chicago has achieved consistently high scores on the DealerRater website, placing it among the top dealerships nationwide. Online shoppers visiting Berman INFINITI Chicago's dealer page will find a "2017 Consumer Satisfaction Award winner" badge on their profile to instantly recognize it as a high quality dealership.

Steve Camp, Executive Manager provided "Berman INFINITI Chicago is a family owned business that takes pride in our employee's ability to deliver the very best customer experience possible. Offering complimentary services like Uber ride sharing, 30-Day vehicle exchange, vehicle pick-up and delivery or At-Home demonstrations are uniquely tailored to fit our customer's busy lifestyle. Wherever you are in the Chicagoland area, let Berman INFINITI Chicago show you why we earned DealerRater's #1 INFINITI Dealer of the Year Award."
Berman INFINITI of Chicago is proud to be a luxury automotive leader in Chicago. Since opening our doors, Berman INFINITI Chicago has kept a firm commitment to their customers to make the car-buying process as quick and simple as possible. Committed to providing an exceptional experience in INFINITI sales, INFINITI service, and INFINITI parts.
For all of your automotive needs, there's nowhere better to turn than Berman INFINITI Chicago. Not only do they offer a grand selection of new INFINITI models, but also have a diverse stock of pre-owned models, too! On top of attractive inventory of new and used vehicles, they host a state-of-the-art Service Department for all of your maintenance needs, as well as a loyal Finance Department that is committed to ensuring you're able to take home the vehicle of your dreams.
You can visit Berman INFINITI Chicago at 640 N. LASALLE ST. CHICAGO, IL 60654, they can be reached at (312) 476-8000, or visit online at INFINITICHICAGO.COM.
About DealerRater
Founded in 2002, DealerRater, a Cars.com Company, is the world's leading car dealer review website that connects consumers with the right person at the right dealership. The site offers more than 2.5 million sales and service reviews across 41,000 U.S. and Canadian dealerships, including a network of more than 5,600 Certified Dealers. More than 14 million consumers read DealerRater content across the web each month. By offering a product suite that allows qualified dealerships to manage their reputations and achieve higher SEO rankings, DealerRater supports new customer connections by growing online presence.
DealerRater features more than three million dealer reviews, and has an audience reach of more than 40 million car shoppers. "Thousands of dealers across the U.S. and Canada compete every year to win our coveted Dealer of the Year award," says Tucker. "The Consumer Satisfaction Award is one way for today's shoppers to instantly recognize quality customer service regardless of brand or region."